Equinox Interscience
Program Update
April 2004
&nbsp
&nbsp

---
&nbsp
COLDSENSE
- Achieving Steady Liquid He Temperatures Without Liquid He
The COLDSENSE Pulse Tube Cryocooler Concept provides stable vibration-free performance down to 4K.
COLDSENSE is also expected to present papers and an exhibit at the upcoming SPIE (International Society for Optical Engineering) 49th Annual Meeting and Optical Science and Technology Symposium August 2 thru August 6 in Denver Colorado.
EI is teamed with the University of Denver in continued development of COLDSENSE for astronomical research applications.


---
&nbsp
ALTR
- Advanced Low Temperature Regenerator
ALTR™ is a subset of the COLDSENSE concept.
EI and the ALTR Team has made great strides in our pursuit of this new Regenerator approach and design. EI and the Team are seeking three patents as a result of this work.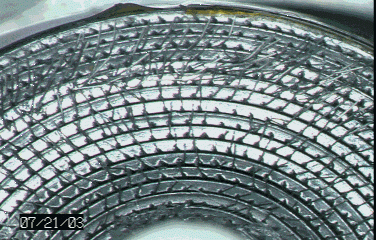 A Fine Example of our ALTR Mems Technology Applied to Manufacture of Pulse Tube Cooler Regenerator Disks
The team's effort and its potential has been recognized by Northrup-Grumman. The EI Team is working with NG to continue the ALTR Program via a sub-contract to NG.
The EI ALTR Team has submitted two proposals to continue the ALTR development program for the current round of Missile Defense Agency (MDA) SBIRs:
• Advanced Regenerators for Low Temperature Cryocoolers: Cryogenic Testing
• MEMS Orifice for Pulse Tube Cold Head Optimization
Announcements are expected mid-March.
The EI ALTR Team is preparing technology white paper on the ALTR Concept for presentation at the upcoming American Astronomical Society (AAS) meetings May 30 thru June 3 of 2004 in Denver Colorado. ALTR is also expected to present papers and an exhibit at the upcoming SPIE (International Society for Optical Engineering) 49th Annual Meeting and Optical Science and Technology Symposium August 2 thru August 6 in Denver Colorado.
The EI ALTR Team will present a paper entitled "A Low Porosity Regenerator Matrix for High Frequency Low Temperature Cryocoolers" at the 13th International Cryocooler Conference, March 29 – April 1. Dr. Dan Ladner will represent EI ALTR Team in New Orleans.
Lockheed Martin Civil Space Systems has expressed interest in ALTR and EI Pulse Tube Cryocooler. EI President, Russ Mellon, presented ALTR/PTC review to several LMA representatives on March 10.

---
&nbsp
FPLT
- Fine Pointing Laser Tracker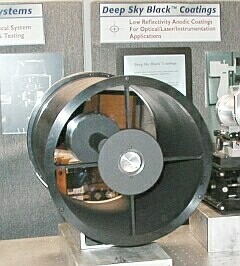 EI is a subcontractor to Lockheed Martin Astronautics (LMA) on the FPLT program.
Lockheed Martin's customer, NASA, has decided on another approach and has closed work on the FPLT. EI and the FPLT Team are still very much interested in pursuing the technology and are looking to purchase much of the hardware back to EI at this time.
http://eisci.com/specproj.html#fpltd

---
&nbsp
DUSAL
- University of Denver/Student Astronomy Lab (SAL)

The SAL Telescope System is complete at the EI Pinecliffe Facility (See photo below).
| | |
| --- | --- |
| The DU/Student Astronomy Lab Telescope is located on the roof of the 6-story DU/Physics Building. Shown in this graphic is the SAL 30 inch Telescope Mount, the Roll-Off Style Environmental Hatch, and Structural Support Tower with foot pads located inside the building on the 6th floor. | |
The system as delivered is currently configured with ½ scale optics installed (16 inch primary) in the full scale structure. Work on the full scale optics (30 inch) is scheduled to began at the new EI Wheat Ridge Works April 1.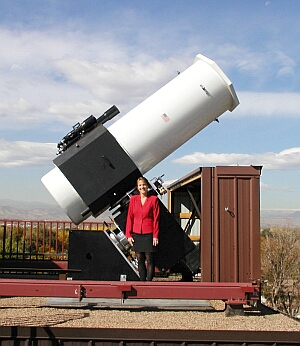 SAL Telescope on DU Physics building.
The delivery of the system (w1/2 scale optics) allows the students to begin to work the instrument while, in parallel, the full scale glass work progresses. The full scale optics will be worked and completed at the EI Wheat Ridge facility with delivery of the finished optics after coating to DU later this summer season.
FIRST LIGHT at SAL: Official First Light with ½ scale optics occurred March 8.
Also, Dr. Bob Stencel has updated his Homepage for DU Astronomy web-site: www.du.edu/~rstencel Here you can find information on all the DU Observatories: Chamberlin, Mt. Evans, and now the DU Student Astronomy Lab (DUSAL).
SEE EI's NEW AD in Sky & Telescope JUNE Edition. The DUSAL is featured! DUSAL will also be prominent in our New ¼ page Ad for the S&K June edition. Watch for it!
EI is working with DU to sponsor an Open House at DU's Chamberlin Observatory on the evening of May 31st during the AAS meetings here in Denver in conjunction with the Pro-Am working group of the AAS. Meeting details posted at: www.aas.org. Info on EI projects and programs will be available.

---
&nbsp
MICA
- Mineral Identification & Composition Analysis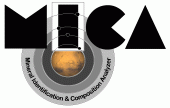 MICA/MIDP - Mars Instrument Development Program

EI and the MICA TEAM are busy preparing for the release of the Mars Science Laboratory Mission (MSL) Announcement of Opportunity anticipated late this month. EI and MICA team expect to participate in a minimum of two proposal responses to this Request for Proposals. There are two options for use of MICA on this mission; one, as part of an instrument suite mounted on the rover deck and, two, as part of a tool suite on the end of a robotic arm. EI has been invited to participate with Applied Physics Laboratory (APL) and their PI, Jeff Plescia, as part of a complete instrument suite concept. We worked with Jeff before on the UREY Mars Scout Proposal and look forward to our new effort with him. EI will also submit MICA as an arm mounted instrument possibly along side other instruments and tools, for example, a RAT (Rock Abrasion Tool) similar to those currently operation on the MER rovers.

The MICA breadboard is now moved from the LMA Planetary Sciences Labs to the Colorado School of Mines (CSM) X-Ray Lab for the next round of testing.

MICA Breadboard Hardware Undergoes Testing at the Colorado School of Mines X-Ray Laboratory

The EI MICA Team includes participation by Colorado School of Mines, SETI Institute, Lockheed Martin, Applied Nanotechnologies, Inc., and E2V Technologies.

OTHER MICA NEWS

MICA has been added to the instrumentation suite for the MESA Mission being proposed by a group out of NASA/AMES in response to the NASA Astrobiology Science and Technology for Exploring Planets (ASTEP).

EI and the team will submit selected MICA Sub-Systems in response to the current NASA SBIR opportunity.

Lockheed Martin Civil Space Systems has expressed interest in MICA as a possible participant for several of their DISCOVERY Mission proposals. The next NASA Discovery Announcement of Opportunity is expected shortly. EI President, Russ Mellon, presented MICA to several LMA representatives on March 10.

EI Instrument design team has been invited to participate in an additional Mars Science Laboratory (Mars 09 Mission) proposal. NASA Ames Research Center is the focal point for this new effort which will propose a new version of an instrument called "miniCIDEX". In addition to NASA/ARC and EI, the team will include Ion Applications, Inc., Thorleaf Research, Inc., and science team participation out of USGS, SETI, Stanford University and Hebrew University.

For more information see


---
&nbsp
SPELEOSCOPE
- Instrument for Investigating Microbial Mats
EI and the team will submit an updated version of the SPELEOSCOPE in response to the current NASA ROSS opportunity.
For more information see,

http://eisci.com/specproj.html#speleoscope

---
MOTHER GOOSE
&nbsp
The Mothergoose exploration concept (illustrated right) is intended to emulate the activity of a human field biologist in performing site selection and investigation at increasingly finer spatial scales from aerial views down to the microscopic. Shown here are three phases: aerial reconnaissance, walk about exploration using a ground rover, and microscopic examination using microrobots.

The EI MOTHER GOOSE/MGL Team are preparing responses to the current NASA ROSS opportunities. Several technology areas are Of interest: Rover Technology, Navigation, Advanced Entry, Descent & Landing.
Our ITN team members now operate under MICROSATSYSTEMS Inc. within the ITN Energy Systems Company. MICROSATSYTEMS Solar Array Team provides expertise in Flexible Solar Arrays. Flex Arrays have always been part of our Inflatable Wing Concept for MARS. They will function as energy gatherers on the upper surface of the Inflatable Wings and possibly could also function "as" the upper wing surface directly. Our Team is looking at flying some Demo Flex Cells on the 21 footer on it's first flight in this spring.
MGL
- Mother Goose Lite
&nbsp
| | |
| --- | --- |
| | Images (left) from an aerial platform (small glider) are used to make ground site selection. Human-conducted study of surface properties is coupled with prediction of potentially interesting subsurface properties. Shallow drilling allows study of near subsurface properties from the surface, from inside fissures, caves, or rock overhangs. Conducting simple in situ analysis is followed by further laboratory analysis to learn which instrumentation performs the best at reliably detecting features of significance. |
Other Mother Goose News
&nbsp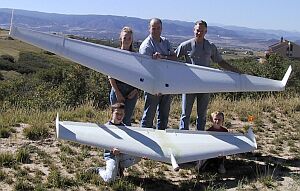 Glider Designers Joe Burger and Jay Fullinwider (and young flight team) pictured with 8 and 12 foot Mars Glider Prototypes.
EI and the Mother Goose Team/Mars Glider Teams are working to meet the needs of the New Strategic Plan as outlined by the President and NASA. Shape shifting Robotic Systems like MG has immediate impact in the human/robotic interchange in the future. Landed Human Astronauts will work in a tightly coordinated fashion with Robotic & Autonomy capable assets in the future. The Mother Goose and Mother Goose Lite concepts will be prominent theme in many of our future proposal efforts to NASA and to the New Explorations Systems office.
More MARS GLIDER OPEN HOUSES are being planned for the Spring. The Team has conducted an initial site survey of the Deer Creek Canyon area for the first Mars Analog flight. This site is not acceptable due to local county ordnances not allowing flight in the Public Open Space. The Lockheed Martin Facility in Waterton Canyon is a possibility. Other alternate sites also being considered. in Boulder County.
An additional OPEN HOUSE will be scheduled for Mid-Spring. This event will again be located at the local Turf Farms (near DIA) and will be dedicated to the first flight of the 21 foot wingspan glider.
The 12-foot wingspan vehicle is being upgraded for more flight testing to check out camera systems and interfaces at the Mars Analog site.

The assembly on a 21 foot wingspan vehicle is nearing completion. EI and Complex Systems Research are providing additional R&D funding toward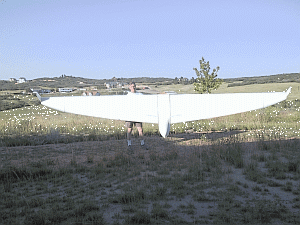 First picture of "The 21" nearing completion.

completion and first flight test of the 21 footer. At 21 feet, this vehicle is considered to be quite representative of the size of inflatable wing vehicle that will ultimately be required to soar in the Martian sky.

The 12- and 21-foot wing DEMO FLIERs are being readied to join our team lead astrobiologist, Dr. Penny Boston, for operations during her next tour of duty at the Mars Desert Station (Utah). The date for this flight demo is to be announced. The Team is looking forward to flying in Utah this coming Summer season.

Movie of 8-foot glider prototype: (AVI 1.7mb), (Quicktime, MOV 2.2mb)

For more information see,

http://eisci.com/specproj.html#goose

---
 


VIEWS

- Virtual Instances/Events Web System





VI way™ -




VI net™ -




EI and the VIEWS™ Team continue to seek opportunities for introduction of VIEWS™ technologies. There has recently been new discussions with Pathfinder Systems of Lakewood Co. on

the utilization of Pathfinder VICTOR™ technology within the framework of VIEWS. EI/Pathfinder worked together in the design, build and field test of a VICTOR™> prototype for the US Army at Fort Knox.

EI Views Team is coordinating a Non-Disclosure Agreement (NDA) with the Ministry of Transportation (Ontario) in response to a technology Request for Information (RFI) to our Viway Program.

---
DSB News
- Deep Sky Black Updates
"Photons Check In . . . ! "

Deep Sky Black -
A high light absorption coating
&nbsp
Equinox Interscience (EI) and Advanced Surface Technologies (AST) have joined forces in the production of DEEP SKY BLACK™. EI/AST operates a "dedicated Deep Sky Line" working DEEP SKY BLACK processing.
&nbsp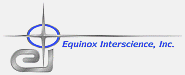 Partners in Innovation-Technology-Production for

DEEP SKY BLACKs™
EI/AST Customers of the Month



A New Deep Sky Black PRODUCT BULLETIN has been produced and will be available at http://eisci.com/deepsky.html. This bulletin provides a one stop shop for complete Information and Data on DSB Family.
&nbsp
OTHER DSB NEWS
EI/AST is conducting R&D on a NEW VERSION of DEEP SKY BLACK that may be compatible with a new matrix composite material in development. As is well known, many telescope manufacturers are providing optional matrix composite tubes with their OTAs because of the weight and CTE efficiencies available. In order to enjoy the benefit of Deep Sky Black, these users are required to utilize an additional sleeve that is pre-treated with the DSB surface on the inner diameter as described below in the RTA section of this news update. This new DSB would allow for direct treatment of the inner surface of OTAs equipped with our new matrix material.
Details regarding this R&D project are proprietary at this time.
Stay tuned for more info!!

---
RTAs
- Replacement Tube Assemblies
EI is reworking a Celestron C8 to the EI/RTA configuration. The RTA configuration includes DEEP SKY BLACK treatment for internal surfaces that would normally be painted flat black. This refurbished tube assembly will be tested against another off-the-shelf C8 to Validate Improvements in image contrast and scatter control.
There have been questions as to the integration of the DEEP SKY BLACK product with new telescope tubes made with the Composite Materials. These composite tubes are typically painted with a flat black paint. These materials are not "directly" compatable with the DEEP SKY BLACK process. However, EI makes available DEEP SKY BLACK Tube Sleeves that fit the composite tube to allow these systems to enjoy the DSB benefit. SEE DSB NEWS ABOVE for info on new concept.
The RTAs available from EI will also feature improvements in the Mechanical Assembly & Mechanical User Interfaces.
EI is working a new data set for an RTA promotional to appear in Sky & Telescope and Astronomy Magazines.
Watch http://eisci.com for more info.

---
OTAs
- Commercial Optical Tube Assemblies
EI continues to promote the Draconis™ Series OTAs in Sky & Telescope Magazine.
New promotional is planned for Sky & Telescope and Astronomy Magazines.
See EI's New Ad in Sky & Telescope Skywatch 2004 Special Edition, page 98.

---
MOUNTS
- Precision Commercial Telescope Mounts
EI has introduced the BETA SEXTANTIS™ 600 pound capacity Telescope Mount.
The Base Price starts at $8,450.00
See our web-site for Product Specifications.

---
Research ASTRONOMY
EI and our Telescope Engineering Team provided a Pre-Request for Proposal White Paper to the PanSTARRS program. The EI team fully expects to be invited to bid the PanSTARRS project when the RFP is released. Details are proprietary at this time.
EI and our Telescope Engineering Team have submitted proposal to the s-EYE-t Project to be the Prime Contractor for the program. The s-EYE-t Project envisions a system of Southern Hemisphere Observatories which will be accessible (Command, Control, Image Processing, etc.) via the internet by users all over the world. EI Prime Contractor role includes all aspects of Observatory Design & Installation including Telescope Design/Manufacture, Instrumentation Design/Manufacture, Dome Installation, Command/Control, Remote Operations & Security, etc. Detailed information on this project is proprietary at this time.
VERY YOUNG STELLAR OBJECT SURVEY (VYSOS)
The VYSOS TEAM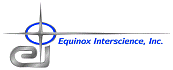 The EI Telescope Engineering Team has been awarded a contract to build 2 identical telescopes for the VYSOS (Very Young Stellar Object Survey) long term synoptic survey project. Both instruments will use 41.2 cm aperture, field flattened Newtonian optical trains. The twin telescopes will provide full sky coverage. The NORTH Telescope will be located on Maui in Hawaii and the SOUTH Telescope will operate from Cerro Tololo in Chile. This is a joint project of the University of Hawaii's Institute for Astronomy (IFA) and the University of Bochum in Germany.
The EI VYSOS Team is making great progress on the program. Mechanical Mount Assemblies are well underway.
VYSOS Mount Pedestal Space Frames / Drive Shafts / Fork Mounts Under Construction.
Other Research Astronomy News
Mt. Evans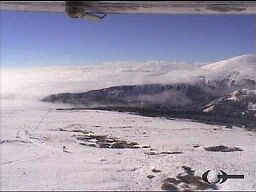 View from Mt. Evans summit.
(Photo courtesy DU Tundracam).
EI continues to participate in summer activities at the twin telescope system at the DU Mt. Evans Observatory. EI has a continuing contract to provide services each summer season. EI services team looks forward to another great summer season in 04.
AAS Meeting, Tour
The EI Telescope Team in planning a major presence at the upcoming American Astronomical Society meetings May 30th – June 3rd in Denver Colorado. Presentations will include information on the VYSOS project, COLDSENSE CryoCoolers and their applications to ground based astronomy, and an EI company Display booth.
The EI Team is also looking into conducting open house and tours of the Chamberlin Observatory in cooperation with University of Denver.
Engineering Services Tools
EI and our Telescope Engineering Team are using new high end tools in our engineering and design efforts. These include the latest versions of SOLID EDGE Software for Mechanical Design and CODE V for Optics Modeling and Optimization.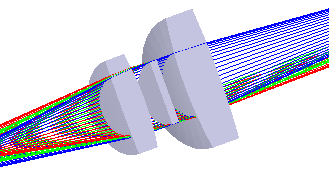 MICA Optics Model


MICA Sample Plane Imaging Macro Lens Group

---
Miscellaneous News Items
The EI TechWELLS team will have another meeting in late Spring. Date to be announced. The concept of the TechWELLS meetings is to allow our Engineering Teams and others from the local technology companies to engage in discussions on emerging technologies and in turn consider alternatives and roadmaps to their continued development and application to products.
EI will be a major presence at the upcoming SPIE (International Society for Optical Engineering) 49th Annual Meeting and Optical Science and Technology Symposium August 2 thru August 6 in Denver Colorado. Presentations and Exhibition will cover all aspects of EI activities: Astronomy, Deep Sky Blacks, and Special Projects (MICA, miniCIDEX, Mother Goose, Pulse Tube Cryocooler Products and more…..)
Stay Tuned.... MORE TO COME

And

THANKS FOR STOPPING BY